Frequently Asked Questions
WHEN IS THE RIGHT TIME TO ORDER RETAINERS FROM CA DIGITAL?
The last check-up appointment before conclusion of the active treatment is also the right time for ordering retainers at CA DIGITAL. It is important to ensure that, between the time of taking the impression or scan and inserting the CAD/CAM retainer, no more movement takes place in the anterior tooth region. The CAD/CAM retainer is precisely fabricated on the basis of the model (or scan) provided by you. The maximum time required for delivery of the CAD/CAM retainer is 9 working days following receipt of the model/s (or scan).
HOW LONG DOES IT TAKE FOR THE DELIVERY OF CAD/CAM RETAINERS?
The maximum time required for delivery of the CAD/CAM retainer is 9 working days following receipt of the model/s (or scan).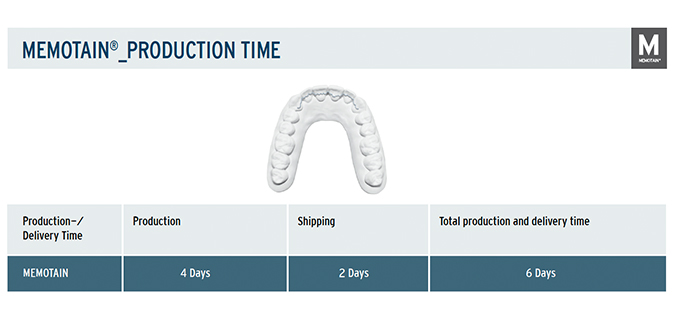 WHO IS RESPONSIBLE FOR THE COMPUTER-AIDED DESIGN OF A CAD/CAM RETAINER?
The CAD/CAM retainer is designed by a dental technician with several years of professional expertise.
I CAN'T SAY IF MY PATIENT'S BITE IS TOO DEEP AND WHETHER HE SHOULD GET AN UPPER JAW RETAINER. WHAT SHOULD I DO?
If, after inspecting the models, you are not sure, tick the field "Prepare retainer only after consulting me" in the order form. In such cases, the CA DIGITAL team will present you several options for positioning the retainer.
We know from experience: With absolute certainty, we can say in advance whether or not there is enough room for a CAD/CAM retainer. You will never bond a CAD/CAM retainer and determine later that the patient has occlusal contact with the CAD/CAM retainer.
A 1.2-2.2-thick CAD/CAM retainer is almost always feasible (even for a very prominent overbite). In general, a 1.3-3.3-thick CAD/CAM retainer is also feasible for a prominent overbite. Note that the wire has a thickness of only 0.012" x 0.012" and, thanks to the retainer design by means of 3D software, it is possible to get the ideal fit of the retainer.
WHAT MATERIAL IS USED FOR MANUFACTURING CAD/CAM RETAINERS?
The CAD/CAM retainer consists of a 0.012" x 0,012" (0.4 mm x 0.4 mm) strong square archwire made of Nitinol©. The CAD/CAM retainer is, however, electropolished prior to delivery. As a result of this post-production treatment, the CAD/CAM retainer shrinks by a few microns (µm). This step is performed to give the retainer a smooth finish and round off the edges.
HOW IS IT POSSIBLE TO STABILISE ORTHODONTIC TREATMENT RESULTS?
In addition to lingual retainers, which are also referred to as fixed retention appliances or simply fixed retainers, removable appliances are also available as an alternative. Following the active treatment period, removable retainers are to be worn at all times – during the day and at night – in the first few months. After around 3-6 months, the wearing time is reduced and the retainers are to be worn only during the night. Removable retainers can stabilise the position of the teeth as well as fixed retainers, but only if they are worn every night. Scientific studies show that, after a period of 5 years, only a very few patients wear their retainers [Pratt MC et al.: Evaluation of retention protocols among members of the American Association of Orthodontists in the United States. Am J Orthod Dentofacial Orthop. 2011 Oct;140(4):520-6]. Other authors insist that, upon completion of active treatment, every patient should be provided with a fixed retainer in order to ensure sufficient prevention against any undesired tooth movement [Durbin DD: Relapse and the Need for Permanent Fixed Retention. J Clin Orthod. 2001 Dec;35(12):723-7].
WHY IS IT IMPORTANT TO STABILISE THE RESULTS IN THE POST-TREATMENT PERIOD?
Ensuring the long-term success and stability of the treatment results is a vital to every orthodontic therapy. This is important as teeth have a tendency to return to their original position even after corrective orthodontic treatment. To prevent this from happening, it is essential to ensure that the teeth remain in their post-treatment position. Remember: The longer retention devices are used for stabilising the dental arches, the lower the tendency of the teeth to move back to their original position.
FOR HOW LONG MUST THE TEETH BE STABILISED IN THEIR CORRECTED POSITION AFTER THE BRACES HAVE BEEN REMOVED?
There is no simple answer to this question. As a general rule: The retention phase should be approximately twice as long as the active treatment period. Thus, if a patient has worn fixed braces for a period of two years, then a retention device should be used for a period of four years to stabilise the treatment results. The propensity for recurrence, however, varies depending on the different types of malocclusion and temporomandibular disorders. Owing to this, therefore, there is no hard-and-fast rule. The trend in modern orthodontics is to focus on the so-called "life-long retention" principle, i.e. to aim at the life-long stabilisation of the treatment outcome. To ensure that the teeth remain stable in their corrected position for an entire lifetime, it is also necessary to ensure the life-long stabilisation of this position.
Life-long retention can also be beneficial, irrespective of the likelihood of an orthodontic relapse. Among many patients, we observe crowding in the anterior region, so-called "tertiary crowding" (also known as "late crowding", "post-adolescent crowding" or "late incisor crowding"), during the patient's lifetime. This occurs more frequently in the lower than in the upper jaw. This kind of crowding is so common that Professor Fastlicht describes "tertiary crowding" as an "anatomical/physiological phenomenon".
IS IT POSSIBLE TO DETERMINE A PARTICULAR POINT FROM WHICH I CAN STOP WEARING A RETENTION DEVICE ...
... AND CAN BE ABSOLUTELY SURE THAT MY TEETH WILL NOT MOVE AGAIN?
Unfortunately not! Tooth movement can occur throughout one's lifetime. In most cases, orthodontic relapse is almost unlikely after a sufficient retention period. Nonetheless, it is possible that teeth can move out of position again. During their lifetime, humans are generally prone to crowding in the anterior tooth region (after the process of permanent dentition is completed). This initially occurs in the lower jaw but can also extend to the anterior region of the upper jaw. The technical term for this phenomenon is "tertiary crowding". Wearing a retention device prevents both an orthodontic relapse as well as undesired tooth movement.
WHEN IS TREATMENT WITH CAD/CAM RETAINERS ADVISABLE?
Treatment with a CAD/CAM retainer is recommended in the following cases:
- after orthodontic treatment to ensure long-term success of the treatment and prevent relapse
- to prevent tertiary crowding
- for stabilising teeth during periodontal therapy
- for post-traumatic stabilisation of teeth
WHAT IS THE CORRECT BONDING PROCEDURE FOR MEMOTAIN?
MEMOTAIN IS MADE OF NICKEL? WHAT ABOUT PATIENTS WHO SUFFER FROM A NICKEL ALLERGY?
Since the 1970s, orthodontists have been using nitinol (an alloy of nickel and titanium) for intra-oral treatment. Furthermore, this material is also used in the production of stents. Thanks to its outstanding biocompatibility and corrosion resistance, nitinol is the ideal material for meeting the highest demands in orthodontics. Surface finish and coating are important factors that influence biocompatibility and corrosion resistance. MEMOTAIN retainers are prepared according to similar processes as those used stent production. As a result, they possess an extremely smooth surface and antibacterial properties.
The induction of an allergic reaction following the intra-oral application of nitinol can be virtually ruled out. Studies show that patients suffering from a "nickel allergy" did not display symptoms of an anaphylactic reaction following oral exposure to nitinol. That is because the suspected "nickel allergy" is actually caused by an allergic response to nickel sulphide. Nickel sulphide can only originate if nickel reacts with sulphur. This happens regularly when, for instance, the nickel in designer jewellery reacts with human sweat to form nickel sulphide. Fortunately, there are no sweat glands or other sources of sulphur in our oral cavity and hence there is no formation of nickel sulphide that can cause an allergic reaction. Nitinol is thus a safe material which makes it suitable for its application in MEMOTAIN retainers. Nonetheless, there are isolated cases in medical literature that report about "nickel allergies" triggered by nickel in oral applications. Until now, there is no scientific explanation for these individual cases.
IS IT POSSIBLE TO TAKE AN IMPRESSION IF THE PATIENT IS STILL WEARING FIXED BRACES?
Yes, but only if the brackets are in a buccal and not a labial position.
WHICH ADHESIVE SHOULD I USE FOR BONDING?
For cementing a MEMOTAIN® retainer, composites with either a high or low filler content can be used. Make sure that the transition from the bonding point to the natural tooth is as smooth as possible.
Composites with a low filler content (flow composites):
These composites ensure a smooth surface that is comfortable for the patient.
Composites with a high filler content:
Compared with flow composites, the higher filler content of such resins makes it more resistant to abrasion. At the same time, however, the sensation of a resin with a higher filler content is rougher for the tongue. The sensation of roughness can be reduced by subsequent coating with a bonding agent.