EFFICIENT TREATMENT OF THE ENTIRE DENTAL ARCH
Thanks to the new CA® PROFESSIONAL system, the effective treatment of complex cases of malocclusion in the entire dental arch with aligners is no longer a dream. A revolutionary innovation makes this possible: With this multiphase treatment system, we now have an ideal solution for treating complex indications by implementing tried-and-tested orthodontic principles of tooth movement for aligner therapy. Tooth movement is facilitated in a clinically significant sequence. This ensures an ideal course of treatment and precise results. Sophisticated add-ons and tried-and-tested attachments reduce the duration of treatment and boost the efficacy of the CA® PROFESSIONAL system. Thanks to the novel diagnostics questionnaire, treatment planning has now become extremely simple and intuitive.
THE INNOVATIVE MULTIPHASE TREATMENT SYSTEM
The concept of dividing tooth movement in different, meaningful phases is not new. It is therefore no surprise that in the standard textbook of orthodontics, "Contemporary Orthodontics" by William R. Proffit, conventional treatment with brackets is divided into different phases. The innovative CA® PROFESSIONAL system implements these tried-and-tested principles and adapts them efficiently in aligner treatment. In contrast to other systems, procedures involving superfluous and risky mixed movements are thus omitted and optimum anchoring is ensured. The outcome: more efficient results and improved planning security.

TRIED-AND-TESTED ATTACHMENTS
FOR OPTIMUM ANCHORING
For treatment with the CA® PROFESSIONAL system, we rely on tried-and-tested attachment designs for complex tooth movement. Thanks to the special design, these attachments facilitate the efficient transfer of pressure and ensure optimum anchorage of the relevant dental segment.
ATTACHMENTS – EFFICIENT RESULTS, EASY TO IMPLEMENT
INNOVATIVE ADD-ONS FOR OPTIMISED TREATMENT
CA DIGITAL'S specifically designed, innovative add-ons are setting new standards in digital aligner treatment. These additional features that are already integrated into the aligner make it possible to achieve more discreet, gentle and faster results when treating complex cases of malocclusion. The tried-and-tested VECTOR® 40 screw, for instance, allows expansion in the region of the front teeth without bothersome and conspicuous attachments and with a significantly lower IPR (interproximal reduction).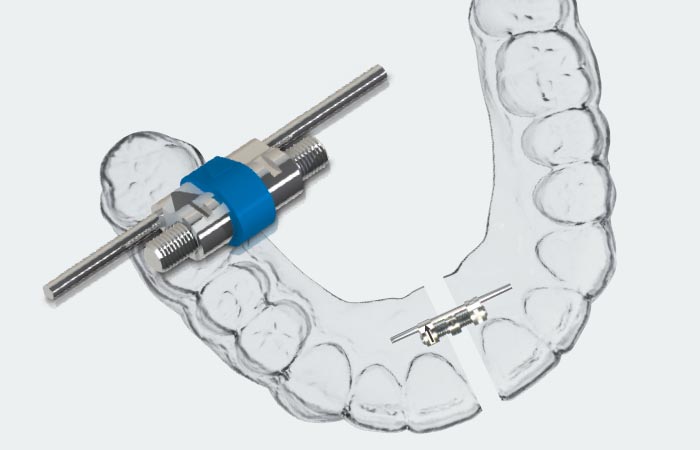 VECTOR® 40 SCREW
The VECTOR® 40 SCREW facilitates an expansion in the region of the front teeth in around six to eight weeks. Thanks to this expansion, it is possible to create the required space for additional tooth movement. This not only helps eliminate superfluous steps and IPR (interproximal reduction) but also helps prevent the use of conspicuous attachments in the anterior tooth region.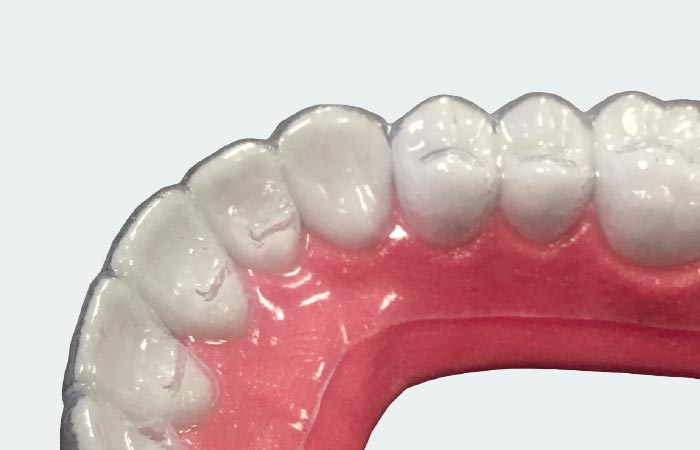 CA® BITE RAMP
The CA® BITE RAMP aligner is used for treating overbite indications. The hollow spaces in the aligners facilitate intrusion of the front teeth and at the same time create disocclusion of the posterior teeth. CA® BITE RAMPS are available for incisors and have a maximum depth of 5.75 mm.
THE ADVANTAGES FOR YOUR PRACTICE
THE ADVANTAGES FOR YOUR PATIENTS