THE GENTLE WAY TO A CAREFREE SMILE
Correction of malocclusion with the help of aesthetic, virtually invisible CA® CLEAR ALIGNER aligners is an important treatment method in modern orthodontics. Especially for adult patients, this has proved to be a reliable treatment concept in several clinical cases. This method guarantees ideal treatment results in addition to a high level of wear comfort for the patients. The applications are indeed versatile: the CA® CLEAR ALIGNER allows orthodontists to effectively treat mild to moderately severe cases of malocclusion of the anterior teeth in the upper and lower jaws.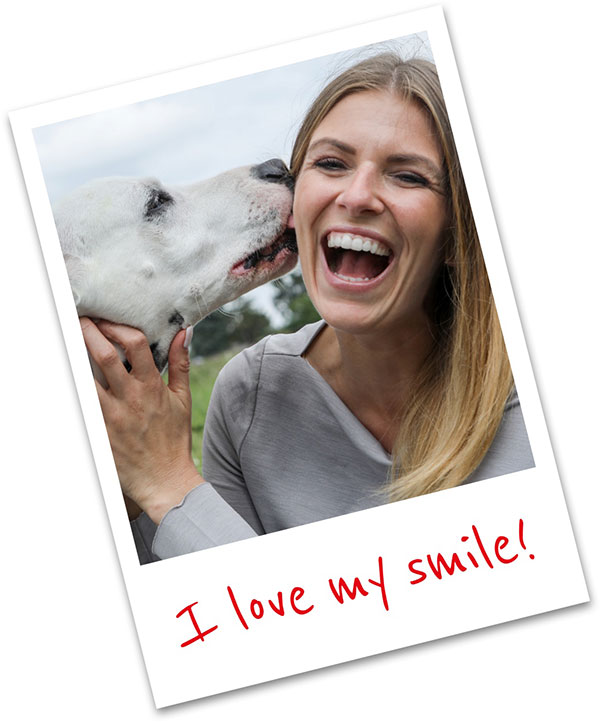 START TO LOVE YOUR SMILE
To attract new patients for the CA® CLEAR ALIGNER system, we launched a successful marketing campaign in 2017 with popular lifestyle blogger Romy. So far, the campaign has captured the attention of over 44 million people – and, in the previous year alone, 20,000 clicks were registered for people who used the "FIND A DOCTOR IN YOUR AREA" search to fix up an appointment with the practitioner of their choice. So why wait? Begin right now with targeted marketing measures in your practice! Get in touch with us – and we'll be pleased to inform you about the campaign
REVOLUTIONARY DESIGN TO COVER THE GINGIVA
Not only the 3-aligner system but the shape of the aligner too is exceptionally innovative: In contrast to other aligner systems, the gingival area is partially covered (2-3 mm). This increases the transfer of pressure and enhances treatment efficacy thanks to the so-called "sucking effect". The CA® CLEAR ALIGNER is also much more inconspicuous than other aligner systems due to reduced light refraction at the incisal edges and the use of fewer attachments in the anterior region.
THE THREE-ALIGNER SYSTEM
Three different material thicknesses worn over a period of four weeks for a unique and attractive smile: during each treatment phase, the patient wears three aligners, each with a different material thickness. A steady increase in pressure helps to correct the patient's teeth gently yet effectively and without any discomfort. The special aligner design also covers the gingival area (2-3 mm), whereby a greater amount of pressure is transferred and the treatment is thus more effective.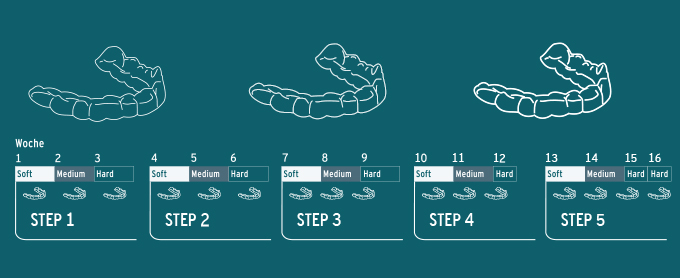 CHOOSE FROM AMONG THREE DELIVERY VERSIONS
A convenient full-package service or maximum added value? The CA® CLEAR ALIGNER system offers the ideal solution for every practice and requirement. Irrespective of which version you choose, all versions are planned, designed and fabricated by highly experienced dental technicians in our specialist laboratory in Germany. It goes without saying that competent advice and support are part of our comprehensive service package.
* Please note that a CA® CLEAR ALIGNER certification is a prerequisite for acquiring the data and thermoforming versions.
THE ADVANTAGES FOR YOUR PRACTICE
THE ADVANTAGES FOR YOUR PATIENTS